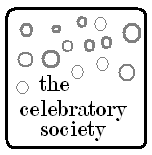 Please forgive my slacker blogging. I caught the baby's cold, and now my allergies are bothering me on top of the cold. Add in sleep deprivation and working full time, and it's hard to put my thoughts together for a coherent post. It's even hard to keep up with all my blog reading, but I try, and I try to leave comments when I can. So I thought Mel's latest project would be a good incentive for me to write more than quick, one sentence comments and a way for me to soak up some of the love from the most loving gang on the net.
Think of this as the most interesting delurking project you'll ever participate in. After giving back to others at the Celebratory Society, I have decided to participate in it myself. You can understand the project in full by
clicking here
, but in brief, the Celebratory Society is an online festschrift for a blogger--a way for you to tell me what my blog or actions mean to you. But this isn't about me--this is about you too. And I would love it if you returned to your own blog, started your own Celebratory Society post, added it to the main project list, and gave me the opportunity to tell you about...
you
.